16 May 2011 09:16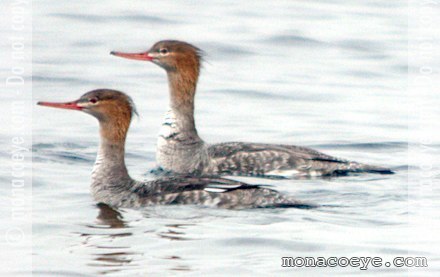 Copyright: monacoeye • Alpes Maritimes • March 2010 • Do not copy without permission

Bird name: Red Breasted Merganser
Latin:
Mergus serrator
Other: Harle huppé (Fr) • Mittelsäger (De) • Serreta mediana (Es) • Длинноносый крохаль (Ru) • Småskrake (Sw)
Family:
Anatidae
•
Ducks
,
Mergansers
Range:
Iceland
, Northern Eurasia and America, winters on coasts of China, US, Europe
Similar:
Common Merganser
This is the second consecutive year I have seen Red-breasted Mergansers fishing in exactly the same spot in March in the sea off the coast near Cannes.
This area is not marked on the Collins distribution map, but Red-breasted Mergansers are known to winter further east and west on the Mediterranean coast, before flying north to their summer breeding grounds.
Females, juveniles and eclipses can be identified by their thin red bill, striped face, short punky haircut, diffuse neck line, and black line running through white speculum on open wing (see below), the latter differentiating them from Goosanders in flight.
Above juveniles or females. Below, an adult male Red Breasted Merganser, with red irises, dark head, white collar, and dark wings with white patch with black lines.
Below, a male Red-breasted Mergansers off the Reykjanes Peninsula, Iceland, in May.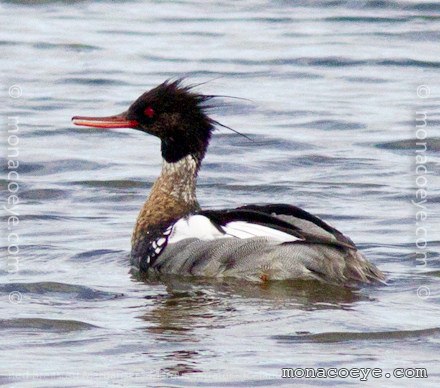 More photos...