16 December 2010 14:50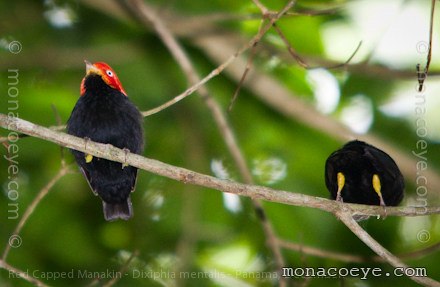 Copyright: monacoeye • Do not copy without permission • Pipeline Rd, Panama, April 2010

Bird name: Red Capped Manakin
Latin:
Dixiphia mentalis
Other:
Pipra mentalis
Family: Pipridae • Manakins
Range: SE Mexico to W Ecuador
The Red-capped Manakin males above were shuffling along their branch, "doing the moonwalk", as part of their courtship in order to be selected by a female. Adult males have red heads, white irises, yellow thighs, and black bodies.
Females Red-capped Manakins are predominantly olive-green - one presumed below in "more photos".
More photos...
29 May 2010 09:47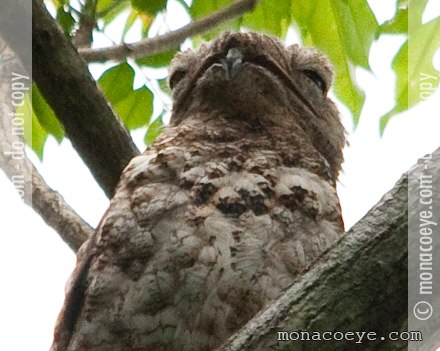 Photos copyright: monacoeye • Do not copy • Semaphore Hill • 26 April 2010

Bird name: Great Potoo
Latin:
Nyctibius grandis
Other: Urutau-grande (Br) Mãe-da-lua-gigante
Family: Nyctibiidae
Range: Guatemala to Brazil
This Great Potoo was seen in the Soberania National Park in central Panama, high on a limb near the main road. The species is found in most of tropical Central and South America from Guatemala to southeastern Brazil.
At 50-60 cm, the Great Potoo is the largest of the seven Potoos, and the largest bird in its order. It is nocturnal, preying on large flying insects and sometimes bats. It's very well camouflaged during the day and difficult to spot.
Slightly reminiscent of Lewis Caroll's Cheshire Cat.
More photos...