23 March 2013 19:02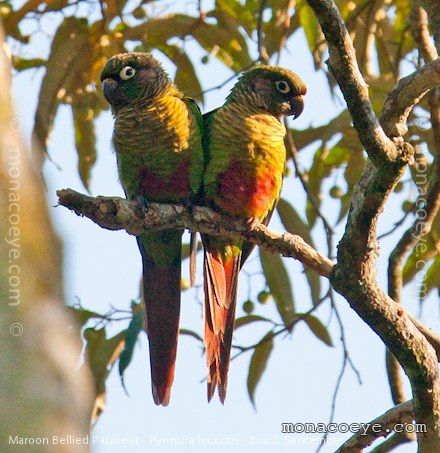 © monacoeye All rights reserved. Serra dos Tucanos, RJ • Sept 2011
Bird name: Maroon Bellied Parakeet
Latin:
Pyrrhura leucotis
Other: Tiriba-de-testa-vermelha, Tiriba-de-orelha-branca (Br),

Family:
Psittacidae
-
Parrots
,
Parakeets
Range: E Brazil: Rio to Bahia

Similar:
The Maroon-bellied Parakeet was the most abundant parrot near the hotels in Itatiaia, though other types were glimpsed and heard, while walking around. The above photo was taken at Serra dos Tucanos Lodge.
The Maroon-bellied Parakeet, which is found in Eastern Brazil, is mostly green, with white eye-ring, light yellowish neck and chest, greyish ear coverts, some red on the belly and reddish tail. Bill black with light band at top and sometimes red visible just above.
The White-eared Parrot, which is sometimes lumped together, extends into Venezuela.
© Below, Maroon-bellied Parakeet, Serra dos Tucanos, RJ • Sept 2011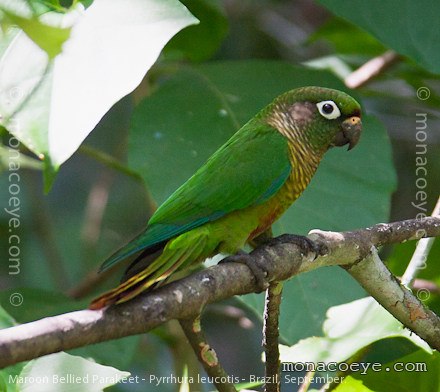 More photos...