01 February 2012 15:14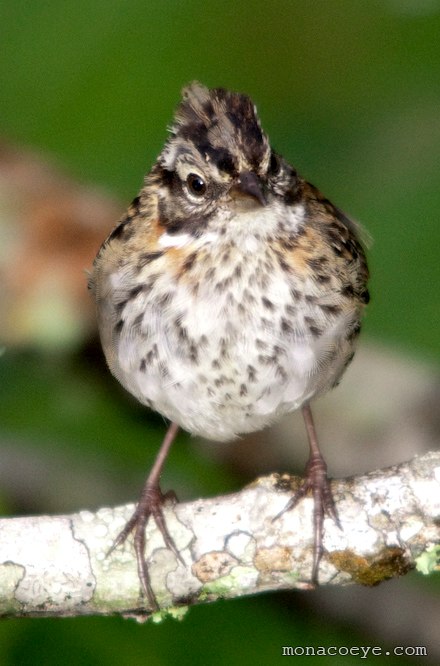 Copyright: monacoeye • Do not copy • Itatiaia, RJ, Brazil • November 2009

Bird name: Rufous Collared Sparrow
Latin:
Zonotrichia capensis
Other: Tico-tico (Br) • Chingolo, Chincol, Cachilo, Copetón, Pichitanca (Es)

Family:
Emberizidae
•
New World Sparrows
Range: South and Central America, Panama western highlands
Similar:
The Rufous-collared Sparrow is found throughout South and Central America, often near human habitation.
These birds in Itatiaia would feed at dawn on the great numbers of insects that collected around the hotel lights at night. With the aid of the geckos and a few other birds the whole compound was cleaned up by about 7.30!
Adults Rufous-collared Sparrows have a characteristic rufous collar, whereas juveniles lack this and have streaked underparts.
Seen frequently in Itatiaia, Ubatuba and Mostardas. In Panama, only seen in Chiriqui highlands in the west (lowest photo on next page).
Below, Rufous-collared Sparrow, Brazil


Below, Rufous-collared Sparrow, Brazil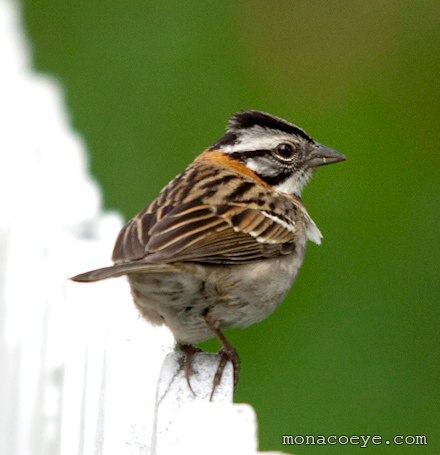 More photos...