07 February 2011 17:43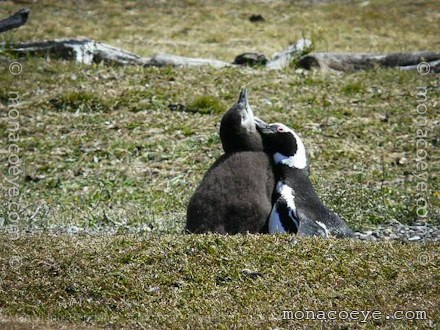 Copyright: RN/monacoeye • Do not copy without permission • Isla Martillo, Jan 2010

Bird name: Magellanic Penguin
Latin:
Spheniscus magellanicus
Other: Pingüino de Magallanes (Es) • Pinguim-de-magalhães (Br)

Family: Spheniscidae • Penguins
Range: S South America
Similar:
A superb set of photos of Magellanic Penguins with chicks or juveniles. Photographed by Becky on Isla Martillo, aka Isla de Los Pingüinos, in January.
Magellanic Penguins are one of four types of banded penguin which all have some type of black line across the neck or chest.
More photos...
07 February 2011 17:43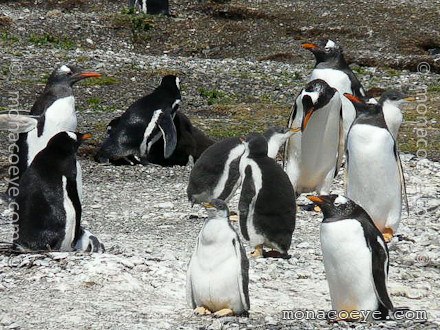 Copyright: RN/monacoeye • Do not copy without permission • Isla Martillo, Jan 2010

Bird name: Gentoo Penguin
Latin:
Pygoscelis papua
Other: Pingüino papúa, pingüino de vincha, pingüino juanito (Es) • pinguim-gentoo (Br)

Family: Spheniscidae • Penguins
Range: Widespread Southern Ocean
Similar:
This group of Gentoo Penguins was seen among a larger colony of Magellanic Penguins on Isla Martillo.
Adult Gentoo Penguins have orange bills and a white patch above the eye. Gentoo is pronounced with a soft 'g' like gentle.
More photos...
16 September 2008 19:13
015 Spheniscidae - Penguins - IOC 2.5 - 2010
Aptenodytes patagonicus
- King Penguin - Widespread Southern Ocean
Aptenodytes forsteri
- Emperor Penguin - Widespread Antarctica
Pygoscelis papua
-
Gentoo Penguin
- Widespread Southern Ocean
Pygoscelis adeliae
- Adelie Penguin - Widespread Southern Ocean, Antarctica
Pygoscelis antarcticus
- Chinstrap Penguin - Widespread Southern Ocean, Antarctica
Eudyptes pachyrhynchus
- Fiordland Penguin - S Australia, New Zealand
Eudyptes robustus
- Snares Penguin - Snares I, New Zealand
Eudyptes sclateri
- Erect-crested Penguin - S New Zealand
Eudyptes chrysocome
- Western Rockhopper Penguin - Cape Horn to the Falkland Is. Atlantic Ocean, South America - New name
Eudyptes filholi
- Eastern Rockhopper Penguin - Kerguelen Is.; Subantarctic islands of New Zealand - Split from
E. chrysocomeEudyptes moseleyi
- Northern Rockhopper Penguin - Tristan da Cuhna group, St. Paul Is., Amsterdam Is. Atlantic Ocean, Indian Ocean - Split from
E. chrysocomeEudyptes schlegeli
- Royal Penguin - Macquarie I and nearby islets
Eudyptes chrysolophus
- Macaroni Penguin - AO, IO Southern Ocean
Megadyptes antipodes
- Yellow-eyed Penguin - New Zealand
Eudyptula minor
- Little Penguin - S Australia, New Zealand - Split of White-flippered Penguin not yet
Spheniscus demersus
- African Penguin - S Africa - Was Jackass Penguin
Spheniscus magellanicus
-
Magellanic Penguin
- S South America
Spheniscus humboldti
- Humboldt Penguin - W South America
Spheniscus mendiculus
- Galapagos Penguin - Galápagos Islands