16 July 2011 16:55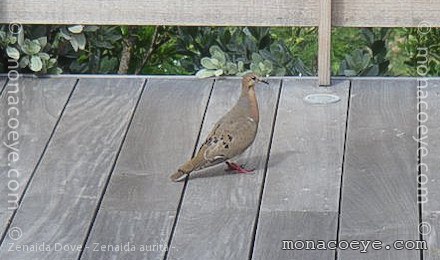 Copyright: NR/monacoeye • Do not copy without permission • St Barths, June 2011

Bird name: Zenaida Dove
Latin:
Zenaida aurita
Other:

Family: Columbidae • Pigeons & Doves
Range: West Indies, North America, also Yucatan Peninsula
Similar: Mourning Dove, Eared Dove
Many thanks to Nathalie for this shot of a Zenaida Dove in St Barths !
16 July 2011 16:54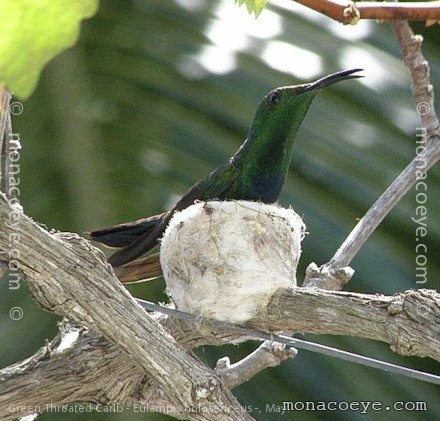 Copyright: RP/monacoeye • Do not copy without permission • St Barths, June 2011

Bird name: Green Throated Carib
Latin:
Eulampis holosericeus
Other: Colibri falle-vert (Fr)

Family:
Trochilidae
•
Hummingbirds
Range: Puerto Rico, Lesser Antilles, St Barths, St Maarten, Virgin Is, Martinique, Guadeloupe etc
Similar:
Many thanks to Bob for this shot of a Green-throated Carib nesting in his garden in St Barths !
More photos...
11 June 2010 12:33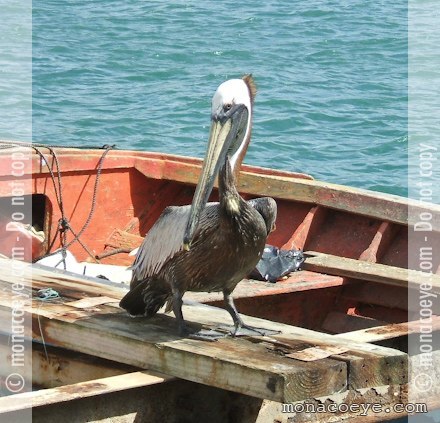 © RP/monacoeye • St Barths • 2008 • All rights reserved

Bird name: Brown Pelican
Latin:
Pelecanus occidentalis

Other:

Family:
Pelecanidae
-
Pelicans
Range:

Similar:
Pictured above is the Caribbean Brown Pelican,
Pelecanus occidentalis occidentalis
, sent in by Robert Paylor in St Barths.
The Brown Pelican, the smallest of the pelicans, is found in North, Central and South America.
Below, large numbers of Brown Pelecans,
Pelecanus occidentalis carolinensis,
seen on along the shoreline in Panama City near the airport.
More photos...