30 March 2013 13:23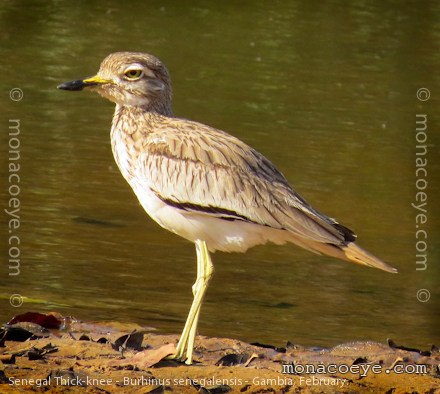 © GW - monacoeye • All rights reserved • Gambia, Feb 2013


Bird name: Senegal Thick Knee
Latin:
Burhinus senegalensis
Other: Œdicnème du Sénégal (Fr), Senegaltriel (De), Occhione del Senegal (It),

Family:
Burhinidae
-
Stone-curlews
,
Thick-knees
Range: Sub-Saharan Africa, N of equator, incl Gambia etc

Similar: Water Thick-knee, Stone Curlew
We saw Senegal Thick-knee fairly regularly near water in Gambia in February. Beside the Gambia River at Janjanbureh, at the beach at Tujereng, by a pond beside the main coastal, or near the creek at Marakissa River Camp.
They have a curious habit of stopping walking and holding one leg bent in the air. Dark black line at bottom of closed wing.
Senegal Thick-knee on beach, Gambia 2013.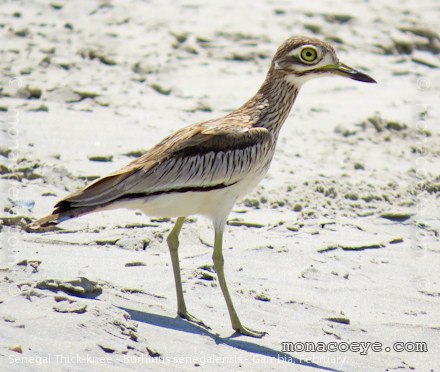 Senegal Thick-knee with "legs bent forward", Gambia 2013.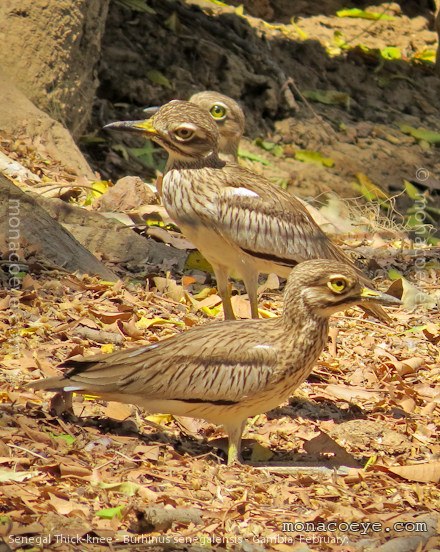 More photos...