26 November 2011 23:15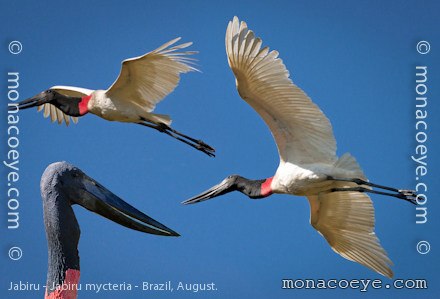 Copyright: monacoeye • Do not copy without permission • Pantanal, Brazil, August.

Bird name: Jabiru
Latin:
Jabiru mycteria
Other: Jabiru (Br) • Jabirú, tuyuyu (Es)

Family:
Ciconiidae
•
Storks
Range: Mexico to Argentina, esp Pantanal, Brazil.

Similar:
The Jabiru is a very large stork, emblematic of the Pantanal region of South America. The word is from the Guarani meaning swollen neck.
The nest is huge, several metres in each dimension. Each year returning Jabirus add a new layer. Smaller birds often nest underneath. In a photo below you might just make out three monk parakeets below the nest.
The nest contained one adult and two juvenile jabirus, pictured below, which lack the characteristic pink red neck of the adult. Great birds.
Otherwise individuals were seen regularly, often with herons, in the pools drying beside the Transpantaneira and at Curicaca Lodge and Pouso Alegre, where I also saw the large nest.
Below, 2 juvenile Jabirus in nest, Pouso Alegre Lodge, Pantanal, Brazil, August.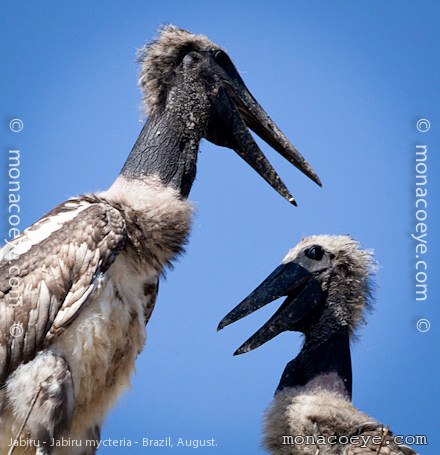 Below, Jabiru feeds passing its bill through the water and mud on bottom, Pantanal..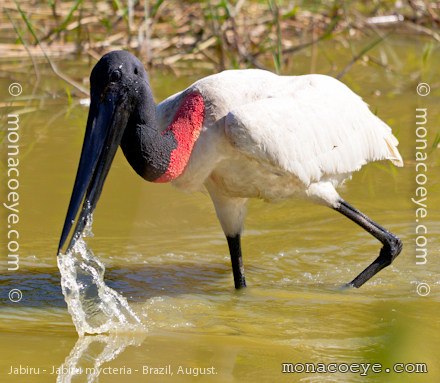 Below, the Jabiru nest is huge, several metres wide, with other birds nesting below.
More photos...