22 March 2010 18:25
Photo copyright: AS/monacoeye • Do not copy • Images: Kenya • Oct 2009

Bird name:
Ostrich
Latin:
Struthio camelus
Other:
Family: Struthionidae • Ostrich
The Ostrich is the largest
ratite
, an ancient group of flightless birds originating in Gondwanaland. They have no keel on their sternum (ratis is Latin for raft), so would not be able to fly even with more developed wings.
Ostriches are native to many parts of tropical Africa, particularly east Africa. Males are generally black and white and females brown.
These ostriches were photographed in Amboseli and the Serengeti.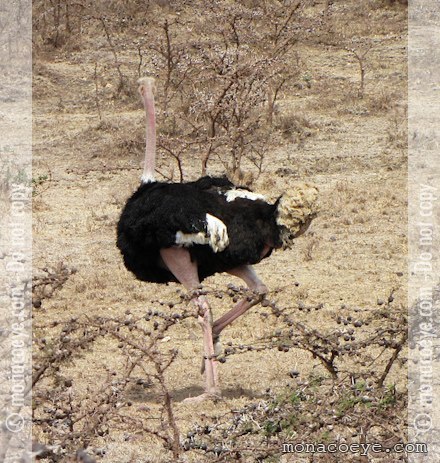 More photos...
29 September 2008 19:09
002 Struthionidae - Ostriches - IOC 2.5 - 2010
Struthio camelus
-
Common Ostrich
- W, C, E, SW Africa
Struthio molybdophanes
- Somali Ostrich - Somalia, N Kenya