07 February 2011 00:09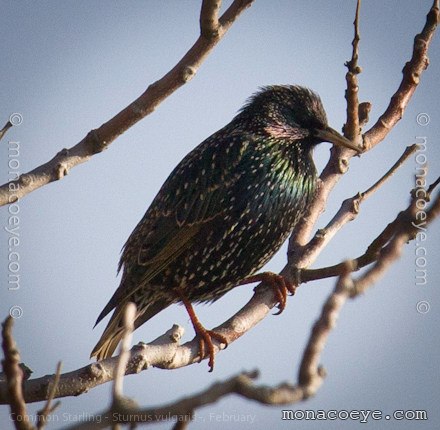 © monacoeye • All rights reserved • Monaco • February

Bird name: Common Starling
Latin:
Sturnus vulgaris
Other: European Starling, Starling (UK) • L'Étourneau sansonnet (Fr) • Star (De) • Estornino pinto (Es) • Storno (It) • Estorninho-comum (Pt)

Family:
Sturnidae
•
Starlings
Range: Temperate Europe, W Asia, migrates south in the winter.

Similar: Blackbird, Spotless Starling (Spain, Portugal, Corsica)
Migrating Starlings are a common sight in cities in the winter, gathering in very large flocks and filling the trees of city squares. Large numbers arrive in Monaco in the winter, but authorities set up an anti-starling campaign over the last few years, with vans blasting hawk sounds, which seems to have had an effect.
Starlings are not just city birds, but also found in very large groups in the countryside and are a common garden bird. Like many other winter residents, near Monaco they favour olive trees and clear trees of all remaining olives in the winter months.
In the winter, birds are spotted: glossy dark with light tips to feathers. In the summer they lose this spotting. They have yellow bills, which darken in the winter, and so can be confused with blackbirds if only seen quickly.
A Common Starling in Reykjavik, May.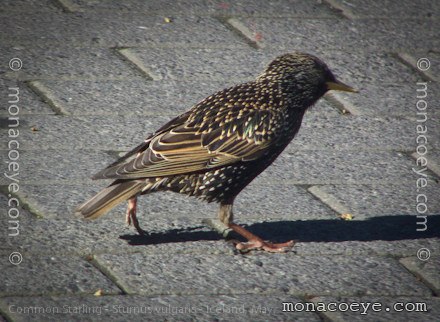 More photos...