08 August 2010 23:13
All photos copyright: monacoeye • Do not copy without permission
Bird name:
Common Tern
Latin:
Sterna hirundo
Other: Sterne pierregarin (Fr) • Charrán común (Es) • Andorinha-do-mar-comum (Pt) • Sterna comune (It) • Fluss-Seeschwalbe (De) • Visdief (Nl) • Fisktärna (Sv)

Family:
Laridae
•
Terns
Range: Widespread
Similar:
The Common Tern is a summer visitor to the Côte d'Azur from April and good numbers can be seen in the Var estuary, where it breeds. Nests are often simple affairs - a couple of branches and a dip in the ground. One parent stays with the eggs or chicks while the other brings back fish. Common Terns seem to like to stand on rocks that just protrude from the flowing river. The dry river bed stones camouflage the birds well.
The Common Tern can be identified, in summer plumage, by its bright red bill with black tip, forked tail and red legs. In the Mediterranean it is unlikely to be confused with another tern as the only others with similar bill colour are the much larger Roseate Tern and the darker smaller Whiskered Tern, both are also less common and behave differently.
In the Northern winter Common Terns migrate south and exchange their distinctive black-tipped red bill and black cap for a black bill and white forehead. They can be distinguished from other similar terns by the dark mark on the fold of wing, very dark red legs, and tail streamers shorter than wing when standing.
Many more
Common Tern photos here
.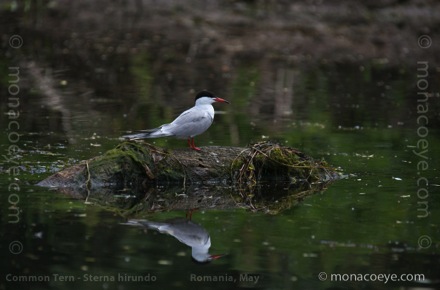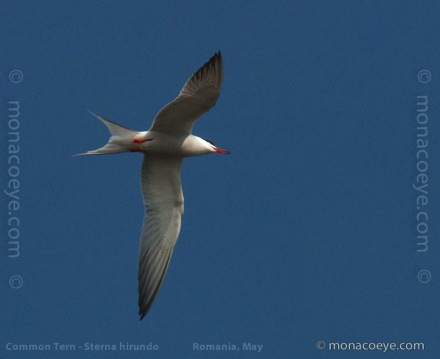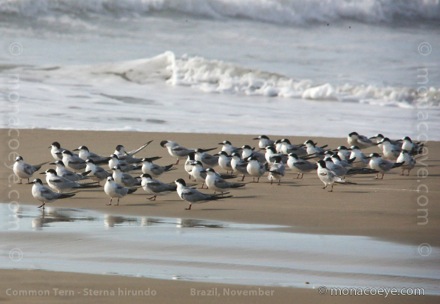 More photos...