29 January 2012 10:03
Copyright: monacoeye • All rights reserved • Chapada das Guimaraes, August 2011

Bird name: Red Pileated Finch
Latin:
Coryphospingus cucullatus
Other: Red-crested Finch • Brasita (Es) • Tico-tico-rei (Br)

Family:
Thraupidae
•
Tanagers
etc
Range: Ecuador, Peru, Bolivia, Paraguay, Argentina, Guyanas, Brazil, Uruguay
Similar:
The dry scrubland, known as cerrado, on the Chapada das Guimaraes plateau was a good place to see the Red-pileated Finch in late August. I saw them just after dawn on a couple of occasions.
The male Red Pileated Finch (or Red-crested Finch) is bright red, with white eye-ring and darker wings and tail. The large crest was not raised in display when I saw them. The female (below) is duller but still has the white eye-ring.
Below, female Red Pileated Finch, Chapada das Guimaraes, Brazil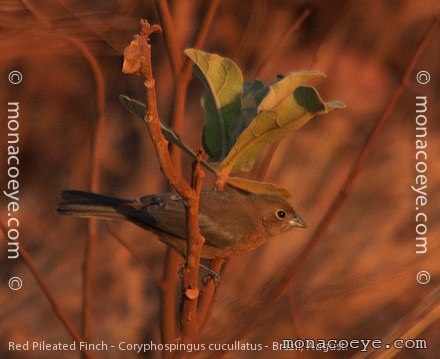 More photos...