27 November 2012 11:21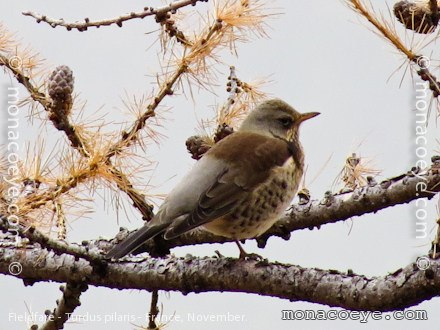 © monacoeye • Mercantour, November, 2012 • All rights reserved

Bird name: Fieldfare
Latin:
Turdus pilaris
Other: Fr: Grive litorne • De: Wacholderdrossel • Es: zorzal real • It: cesena • Nl: Kramsvogel • Sv: Björktrast • Pt: tordo-zornal • Tr: Tarla ardıç kuşu • Po: Kwiczoł • Ru: Рябинник
Family:
Turdidae
•
Thrushes
Range: N Europe & Asia, migrating south to France, Italy, Spain, Turkey etc.

Similar:
Redwing
,
Mistle Thrush
We saw hundreds of Fieldfares in the Mercantour last weekend at about 1900m just below the tree line. They perched in the upper branches of larch, which have shed most of their needles now, before resuming feeding on the many colourful rowan bushes. When startled they fly off in large flocks, much like starlings, before alighting a hundred yards away near other rowans. This was my first view of Fieldfare - I have never seen large flocks of thrushes like this. I don't know if they stay all winter.
The adult Fieldfare has some orange on the chest, differentiating it from the Redwing which has orange on the flank. The 1st winter Fieldfare, pictured above, has very little colour on neck and chest. Fieldfare are quite white underneath, with light grey rump, brown shoulders and white underwings. Mostly yellow bill. A plump thrush.
Below, Rowan berries late November provide food for Fieldfare arriving from the north.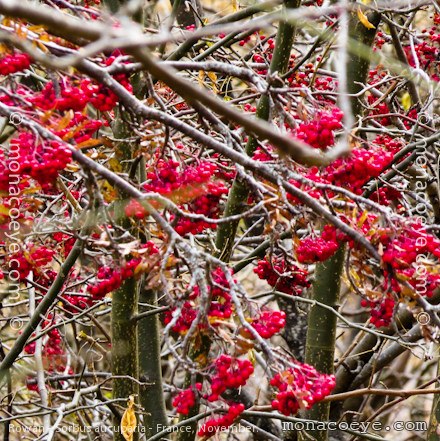 More photos...