14 January 2012 09:09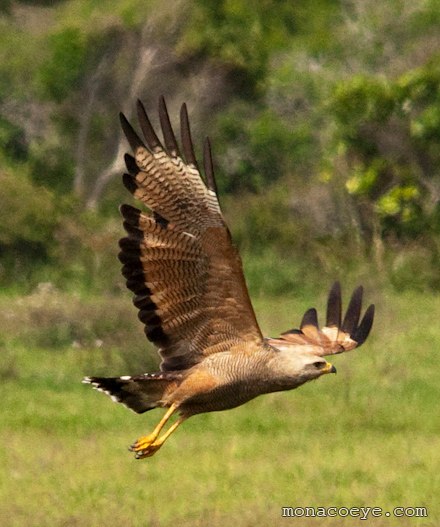 Copyright: monacoeye • Do not copy • Lagoa do Peixe, RS • November 2009

Bird name: Savanna Hawk
Latin:
Buteogallus meridionalis
Other: Heterospizias meridionalis • Gavião-caboclo (Br) • Gavilán cangrejero colorado, Busardo sabanero (Es)

Family:
Accipitridae
•
Hawks
, Birds of Prey
Range: Panama to Argentina, incl Brazil
Similar:
The Savanna Hawk is a handsome bird, in tones of sienna and grey, with a light head and dark band running along the back of wings. The back is dark grey, with some grey extending into the upperside of the wings. The wings and body seen from below are mostly uniform finely-barred light rufous and grey, with dark fingertips.
The tail has one thick white band bordered by dark bands of brown, with some white at the tip. The Savannah Hawk has distinctive rufous "trousers", yellow legs and yellow bill base with black tip.
Seen here on farmland, the Savannah Hawk is present throughout most of Brazil and is present in South America from Panama to Argentina. Seen frequently in the Pantanal in August.
Below: Savanna Hawk watching road, Pantanal, 2011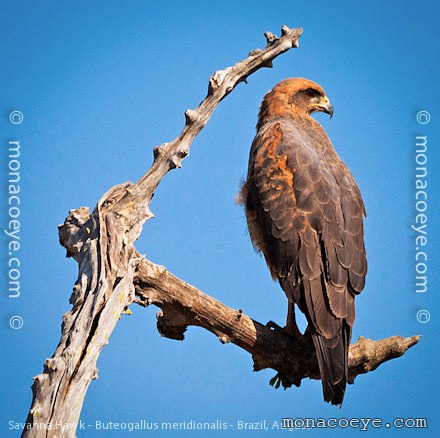 Below, Savanna Hawk flying low over field with wings swept back, S Brazil.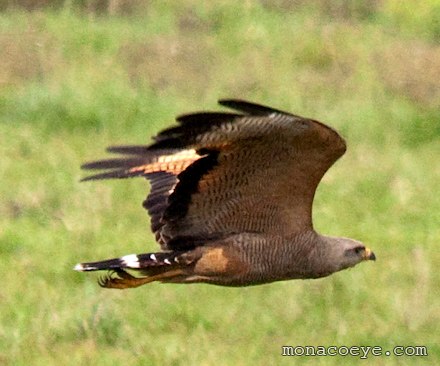 More photos...