24 January 2010 19:25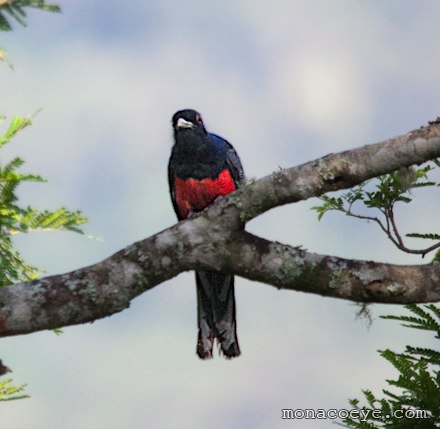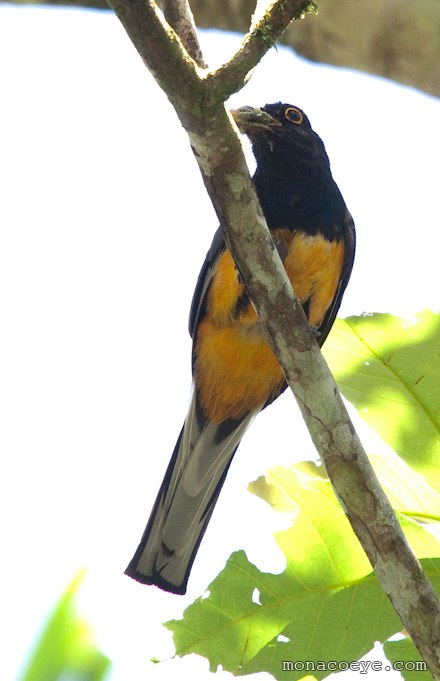 Photo copyright: monacoeye • Do not copy • Images: Itatiaia, RJ • November 2009

Bird name: Surucua Trogon
Latin:
Trogon surrucura
Other: Surucuá-variado •
Trogon aurantius
• Brazilian Trogon
Family: Trogonidae • Trogons
Not very good shots of great-looking birds! Sorry trogons, I didn't do you justice. I think both of these are Surucua Trogons, though I'm not completely sure. There are two subspecies - the nominate form has a red belly and
Trogon surrucura aurantius
has a yellow belly.
The yellow-bellied one below had caught a large pink and green striped caterpillar and then set about eating it.
I've identified these both as Surucua Trogons from the tail patterns, but there are a few similar-looking species, so can't be sure really. I think the red-bellied one (more black in the tail) is female and the yellow-bellied one (mostly white tail) is male.
The Surucua Trogon lives in southeast Brazil and neighbouring countries.
More photos...