13 April 2010 17:35
Photo copyright: AS/monacoeye • Do not copy without permission • Serengeti, Oct 2009


Bird name:
Tawny Eagle
Latin:
Aquila rapax
Other:
Family: Accipitridae • Eagles
A couple of nice shots of Tawny Eagles, sent in by André, taken in the Serengeti. These large eagles breed in Africa and Asia, and all the way to India.
Aquila eagles can be identified by their feathered legs. The Tawny Eagle is known for its slightly scruffy appearance.
More photos...
31 October 2009 22:16
Here's another pale phase Booted Eagle seen a few days ago on the coast near Nice. Like the one I saw in January, (below), it seems a little out of range to be a resident, although it was circling and appeared to be hunting.
Typically a few dozen migrate along the coast towards Spain and Africa, so it may have been migrating. In 2004, exceptionally, 500 Booted Eagles were seen travelling up the coast from Spain, through the Pyrenees, along the Côte d'Azur eastwards and then presumably heading down through Italy to Africa.
Since then a few have still been coming this way. Although this is not the "normal" migration direction, this year, which is the first year I have observed migrating birds, quite a few birds appeared to be migrating "the wrong way", including wood pigeons and birds of prey.
Other observers noticed similar behaviour, though whether the birds in question really were heading down Italy or were just flying back to the mountains for a thermal or another reason before continuing their journey to Spain, we had no way of knowing.
Booted Eagles can be much darker than these two individuals but always have pale patches around the inner primary feathers. Notice 6 "fingers" on wing tip, compared to buzzards 5.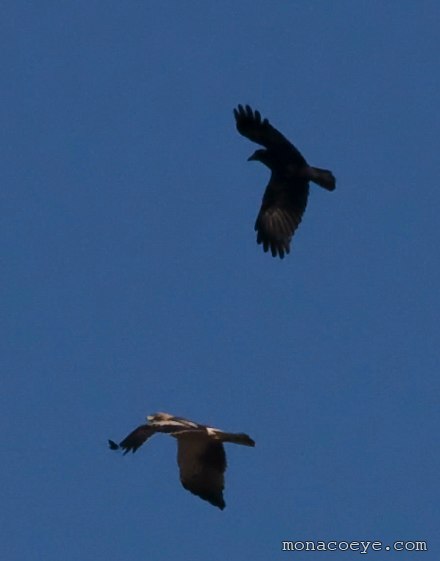 Photos copyright: monacoeye • Vaugrenier - October • Camargue - January • France

Bird name: Booted Eagle
Latin:
Aquila pennata
Other: Hieraaetus pennatus • Aigle Botté
Family:
Accipitridae
•
Eagles
, Birds of Prey
I have it on good authority this was a Booted Eagle… Unusual for this area in the winter.
More photos...