05 October 2009 00:14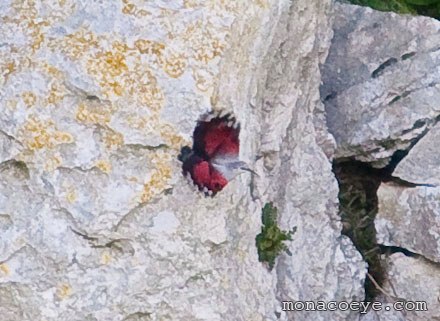 Photos copyright: monacoeye • SE France • Jan 2009 • Do not copy without permission

Bird name: Wallcreeper
Latin:
Tichodroma muraria
Other: Tichodrome échelette
Family: Sittidae • Nuthatches & Wallcreeper
The Wallcreeper is quite a small bird, related to nuthatches and treecreepers, which when combined with his predilection for hanging off rock faces above 1000m can make him very difficult to photograph.
Fortunately they migrate down to the south coast in the winter and can even be found on town walls - although this one was quite high up.
It has the most spectacular markings of any European bird, but oddly enough, when I took this photo I didn't actually see the red wings.
That's because he only opens his wings while fluttering from one spot to another - so without a scope or binoculars he's very difficult to recognise.
More photos...
29 January 2008 11:26
202 Tichodromidae - Wallcreeper
Tichodroma muraria
-
Wallcreeper
- S Europe to C China