29 March 2013 13:37
© monacoeye • All rights reserved, Lagoa do Peixe • November 2009

Bird name: Sanderling
Latin:
Calidris alba
Other: Bécasseau Sanderling (Fr) • Maçarico-branco (Br) • Correlimos tridáctilo (Es) • Playerito blanco

Family:
Scolopacidae
•
Sandpipers
,
Curlews
Range: Worldwide

Similar:
Another long distance migrant, the Sanderling breeds in the Arctic Circle and then heads to southern Europe, South America, Africa and Australia during the Arctic winter. I've seen one in Nice, in May, presumably migrating north.
The photo above was taken in Mostardas in southern Brazil in November. The Sanderling in non-breeding plumage has tones of light grey, with a dark shoulder and a wide white wing bar, which is visible in flight. The head is light, and chest and belly white. Breeding plumage is different … darker and more rufous.
Sanderlings feed on the beach just beyond the breaking wave, running back and forth as the water advances and recedes.
Below, Sanderlings in Gambia, Feb.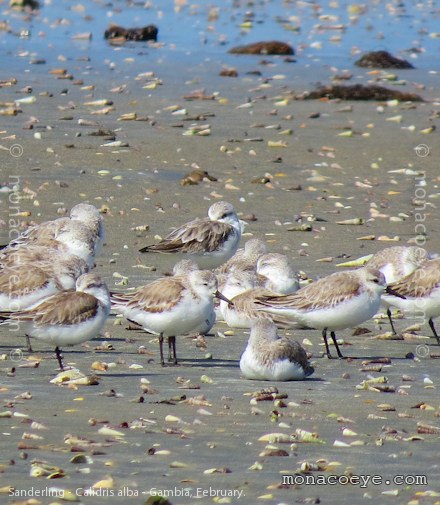 Below, Sanderling at sunset, Zaandvort, Holland.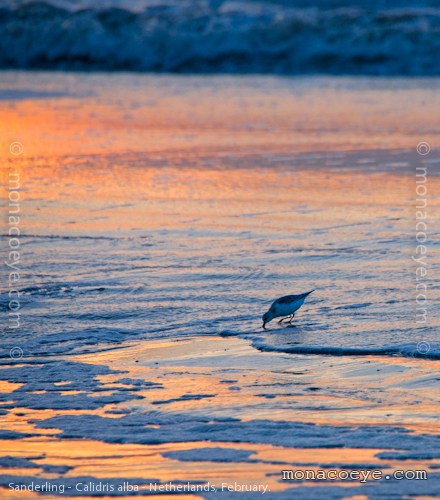 More photos...
05 April 2011 10:08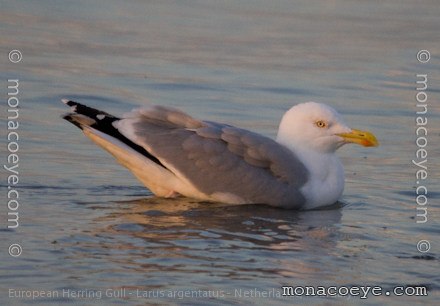 Copyright: monacoeye • Zaandvoort, Holland, Feb 2011 • Do not copy without permission
Bird name: European Herring Gull
Latin:
Larus argentatus
Other: Goéland argenté (Fr) • Gaviota argéntea (Es) • Gabbiano reale nordico (It) • Silbermöwe (De) • Gaivota-prateada, gaivota-argêntea (Pt) • Zilvermeeuw (Nl) • Gråtrut (Sv)

Family:
Laridae
•
Gulls
Range: NW Europe coast: Iceland, GB, Eire, Scandinavia, Netherlands, France, Germany, Spain, Belgium
Similar: Yellow-legged Gull
These European Herring Gulls were seen as the winter sun was setting on the seaside town of Zaandvoort in Holland, during a stopover between flights. The Herring Gull is the most common gull in this area and in the UK.
Herring Gulls reach adult plumage (pictured above) after four years - white head and body, grey wings with black near tip and white at very tip, yellow bill with red spot, light yellow irises, pinkish legs. Juveniles have mottled dark brown plumage, with black bills and eyes. The lighter and yellower the bill, the closer the bird is to adulthood.
Below, sub-adult European Herring Gulls, February, Holland.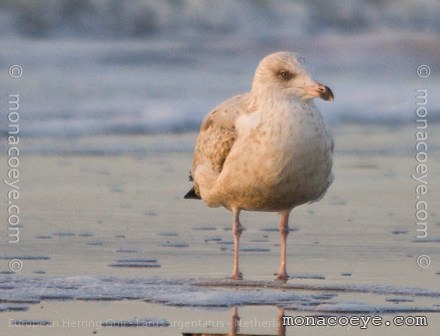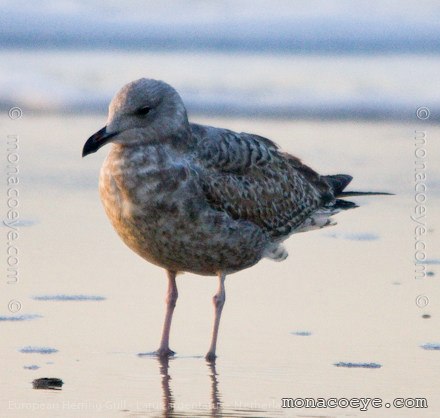 More photos...