Swallow Winged Puffbird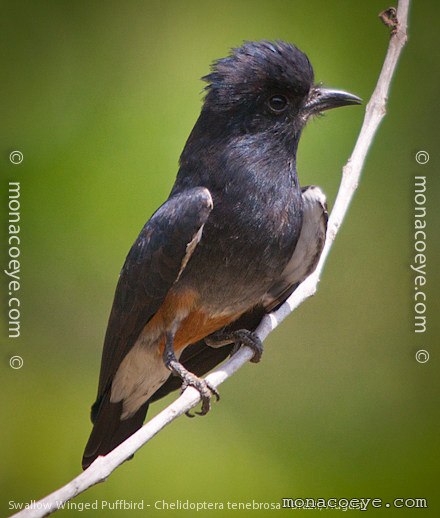 Copyright: monacoeye • Rio Azul Lodge, Brazil, Sep 2011 • Do not copy without permission

Bird name: Swallow Winged Puffbird
Latin:
Chelidoptera tenebrosa
Other: Swallow-wing • Urubuzinho (Br) • Buco golondrina (Es), chacurú golondrina, monjita culiblanca, aguantasol

Family:
Bucconidae
•
Puffbirds
Range: Amazonia: Brazil, Venezuela, Colombia, Ecuador, Bolivia, Peru, Guyanas; E Brazil

Similar:
There were a good number of Swallow-winged Puffbirds near the cabins at Rio Azul Lodge, in Para, Brazil, mostly visible around midday, often on telephone wires. This Amazonian bird burrows in the ground and can be seen throwing sand out of its burrow (photo below). Not too shy at midday.
Swallow-winged Puffbirds are often referred to by the name Swallow-wings. They are mostly blackish, with a red patch on the lower belly and white vent and underwings. The Brazilian name is Urubuzinho, which means little vulture.
Below, a Swallow-winged Puffbird perched on a telephone wire, Para, Brazil, August.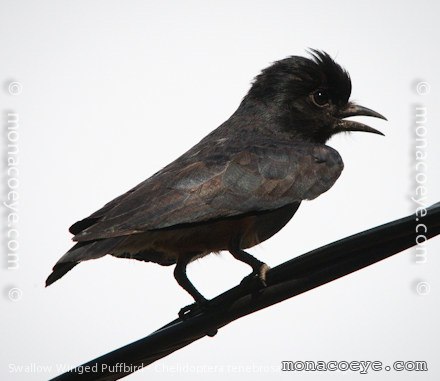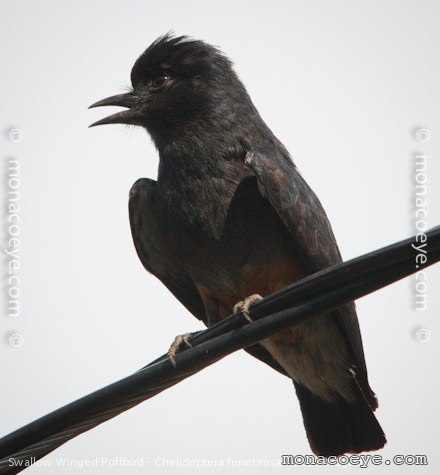 Below, a Swallow-winged Puffbird's nest in the ground.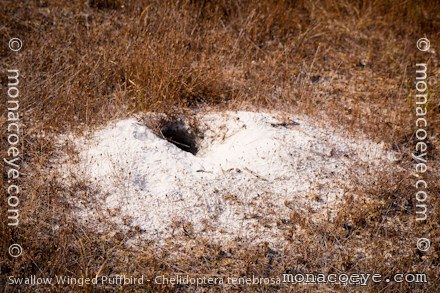 Below, a Swallow-winged Puffbird thowing dirt out of its burrow.