Grass Green Tanager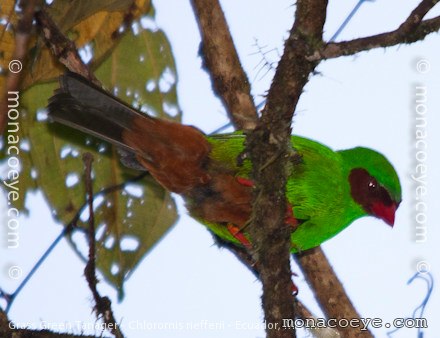 Copyright: monacoeye • All rights reserved • Ecuador, March.

Bird name: Grass Green Tanager
Latin:
Chlorornis riefferii
Other: Clorornis patirrojo, tángara hierba verde, tángara verdirroja, tángara carirroja (Es)

Family:
Thraupidae
•
Tanagers
Range: Colombia, Ecuador, Peru, Bolivia
Similar:
Incredibly intense green on the Grass Green Tanager. Contrasted with red face, bill, legs and crissum - a stunning colour scheme. I saw these in cloud forest near Bellavista and San Isidro in Ecuador. These large tanagers live at high altitudes in the Andes - 1500 to 3300m. I saw birds in the middle of that range.