Lineated Woodpecker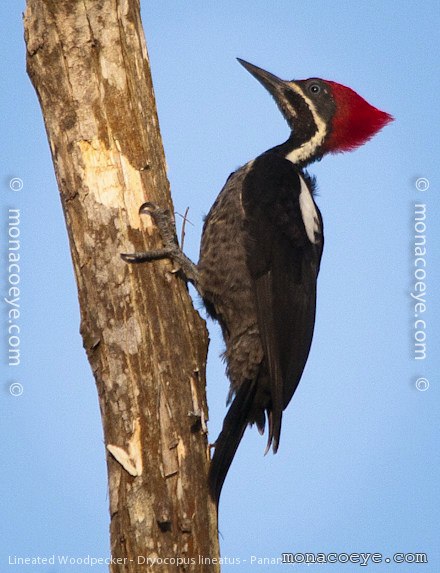 © monacoeye • Central Panama, April 2010 • All rights reserved

Bird name: Lineated Woodpecker
Latin:
Dryocopus lineatus
Other: Br: Pica-pau-de-banda-branca • Es: picamaderos listado, carpintero crestirrojo, carpintero real, carpintero de garganta estriada, pito negro listado

Family:
Picidae
•
Woodpeckers
Range: Widespread Latin America

Similar:
Crimson-crested Woodpecker
,
Guayaquil Woodpecker
,
Powerful Woodpecker
etc
The Lineated Woodpecker is found throughout most of South and Central America north of Argentina, including all of Brazil. Was seen fairly frequently in Panama, Ecuador, Brazil.
The Lineated Woodpecker has a red crest, and white face stripe, relatively thin usually, which extends down neck - red malar stripe (see below) on male, dark on the female (photo above). The chest is dark, with variable amounts of horizontal barring on underside, depending on race.
The Lineated Woodpecker usually has two widely-spaced white vertical bands on its back, differentiating it from the Crimson Crested Woodpecker which has narrow bands which meet in "v". It also has a large dark grey patch behind the eye unlike most of the
Campephilus
woodpeckers.
Below, male Lineated Woodpecker, Pantanal, Brazil, showing red facial stripe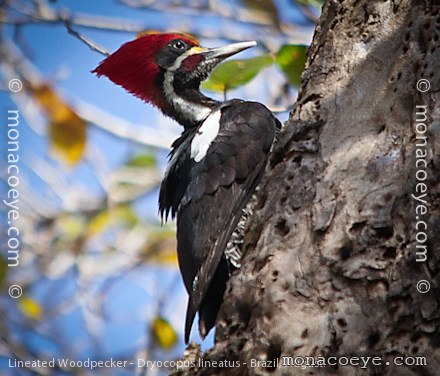 Below, back of Lineated Woodpecker, Panama, showing widely separated white bands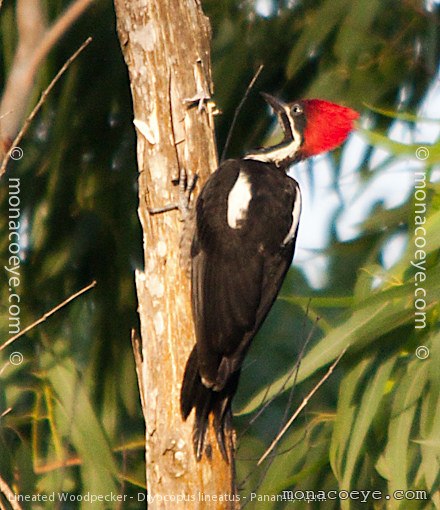 Below, Lineated Woodpecker, Cocle, Panama, with some barring on underside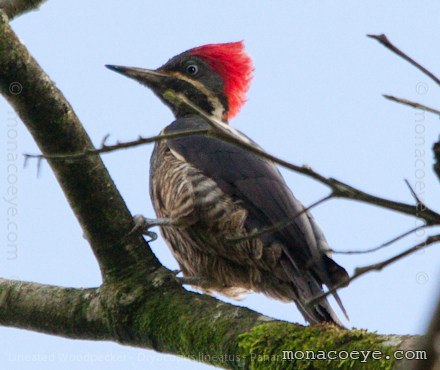 Below, Lineated Woodpecker, NW Ecuador, with dark upper chest, barred below.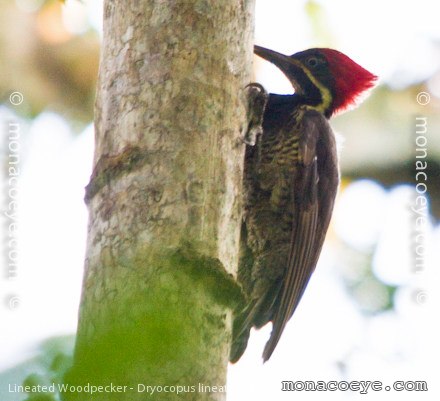 Below Brazilian male Lineated Woodpecker with dark chest, Itatiaia, Brazil, November 2009