Black Jacobin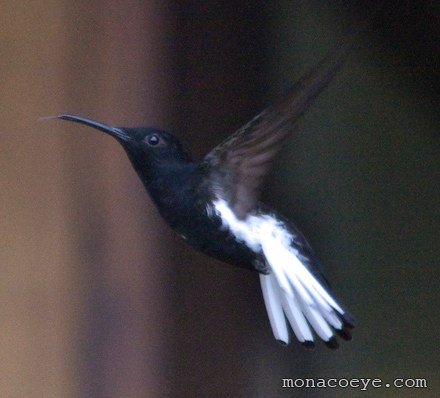 Photo copyright: monacoeye • Do not copy • Images: Itatiaia Brazil Nov 2009

Bird name: Black Jacobin
Latin:
Florisuga fusca
Other: Beija-flor-preto (Br)
Family:
Trochilidae
•
Hummingbirds
Range:
Similar:
The Black Jacobin is endemic to the Atlantic Forest of the east coast of Brazil and neighbouring countries. It was probably the most common hummingbird in most locations I visited.
The Black Jacobin appears black and white although the upperside is very dark green in some lights. Tail is white with central black feathers. There is a small patch of white on the belly area. Immatures can have rufous throats and mottled brown caps. The Black Jacobin is a bit larger than many other hummingbirds at feeders, such as the versicoloured emerald.