Domestic Chicken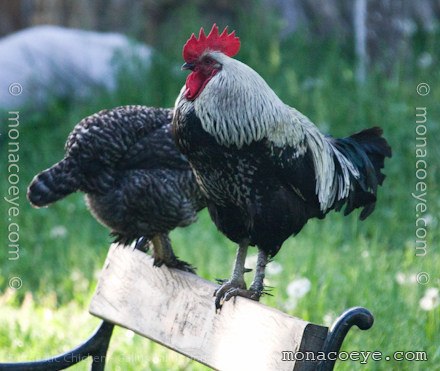 Copyright: AS/AW/monacoeye • Do not copy without permission

Bird name: Domestic Chicken
Latin:
Gallus gallus domesticus
Other: Rooster, Cockerel (En) • Gallo doméstico, Pollo (Es) • Poule, Coq, Poulet domestique (Fr) • Polllo (It) • Haushuhn (De)

Family:
Phasianidae
• Pheasants
Range: Thailand or SE Asia originally, but introduced and bred worldwide.
A few photos of chickens from around the world. The chicken was probably domesticated from the Red Junglefowl, a type of pheasant, well over 10,000 years ago in the region of Thailand, and is now bred worldwide. The Red Junglefowl still carries the same species name
Gallus gallus
.
Lowest a Brahma Cockerel.