Harpy Eagle
Copyright: monacoeye • Do not copy • Summit Gardens, Panama • April 2010

Bird name: Harpy Eagle
Latin:
Harpia harpyja
Other: Aguila harpía (Es) • Harpia (Br)

Family:
Accipitridae
•
Eagles
, Birds of Prey
Range: Central America and tropical South America to Brazil
Similar:
The top pics are of a captive Harpy Eagle eating at the Summit Gardens zoo - further below there are a couple of pics of a wild bird in Brazil, sent in by Paula.
The Harpy Eagle is the largest and most powerful raptor in the Americas, with much larger talons than a Golden Eagle. Somehow, close up it didn't look quite as big as I had expected. A rare bird, classed as Near Threatened, it is being reintroduced in several locations, including Soberania National Park in Panama.
Below: A Harpy Eagle feeding.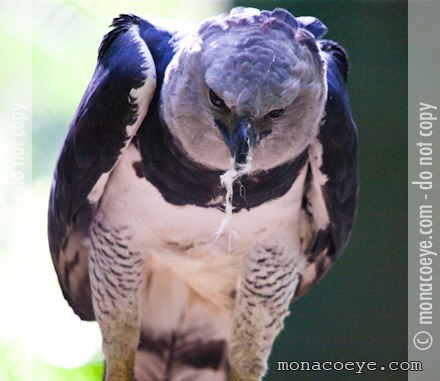 Above and below, Harpy Eagle, Panama.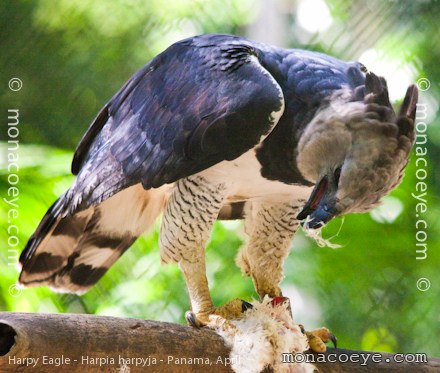 Below, a wild Harpy Eagle lands in the hotel compound in Para, Brazil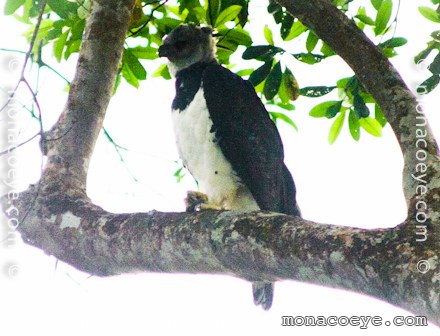 Copyright: PM/monacoeye • All rights reserved


Below, an abandoned Harpy Eagle nest in Mato Grosso. A pair of Harpy Eagles came to this area, raised a chick, stayed a few years, but when they had effectively wiped out the monkey population in this relatively small urban park, they left …