Cliff Flycatcher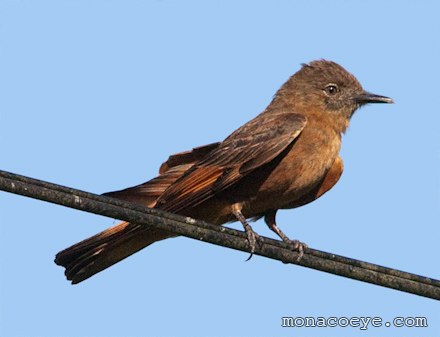 Photo copyright: monacoeye • Do not copy • Images: Itatiaia, Ubatuba • November 2009

Bird name: Cliff Flycatcher
Latin:
Hirundinea ferruginea
Other: Gibão-de-couro (Br)
Family: Tyrannidae • Tyrant Flycatchers
The plumage of the Cliff Flycatcher is in tones of rufous brown, with a very small amount of light around the eye and a dark bill.
Cliff Flycatchers seemed fairly common in Itatiaia and Ubatuba, with a pair nesting on the windowsill of one of the chalets in Ubatuba - see photos below ("more photos").
The female, presumably, was usually on the nest when I passed, with the male in attendance, either on the balcony of another chalet overlooking the nest (see photo) or flying around catching insects. Occasionally the female would join him on the balcony fence and they would both survey their brood of three eggs from a distance of about ten metres.
In Ubatuba I saw several Cliff Flycatchers on telephone wires, and in Itatiaia a group of them appeared at the top of a tree and then mobbed a passing Rufous-thighed Hawk.
Most of the range of the Cliff Flycatcher lies in Brazil, but there are other populations in South America east of the Andes.