Barred Hawk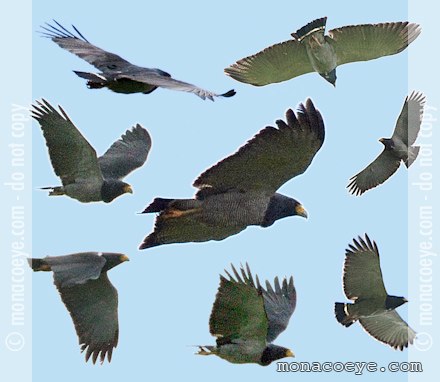 Photo copyright: monacoeye • Do not copy • El Valle, Panama • 1 May 2010

Bird name: Barred Hawk
Latin:
Leucopternis princeps
Other:
Family:
Accipitridae
•
Hawks
, Birds of Prey
Range: Costa Rica, Panama, Colombia, Ecuador, Peru
The Barred Hawk is white below, finely barred with black (looks light grey at a distance), has a well-defined black-slate neck, head, upperside and tail, with one narrow white band on tail. Wing tips and rear wing edge slightly darker. Wide wings, short tail. Yellow on upper part of bill and ceres and feet. One bird below also has a thin white trailing edge to wings.
These Barred Hawks (two, I think) were seen close to the Caribbean-Pacific watershed near El Valle de Anton in central Panama in May. First perched on distant tree, then gliding on thermals with vultures and soaring.