Festive Coquette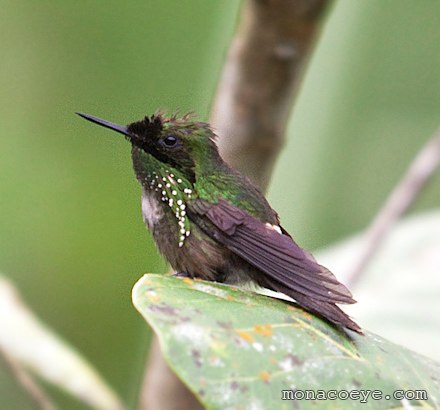 Photo copyright: monacoeye • Do not copy • Images: Ubatuba Brazil Nov 2009

Bird name: Festive Coquette
Latin:
Lophornis chalybeus
Other: Topetinho-verde (Br)
Family:
Trochilidae
•
Hummingbirds
Range:
Similar:
The Festive Coquette was another spectacular small hummingbird seen at Jonas' feeders in Folha Seca in Ubatuba. It has two populations, one in southeastern Brazil and one in the northwest of South America.
Like other Coquettes, the Festive Coquette is small with a white band on the rump. The Festive Coquette male (above) has long
white-spotted neck feathers
, a black mask, otherwise mosty green but as with most hummingbirds other colours can also be seen, especially with flash. The female (one photo further down) has no long neck feathers.