Spectacled Whitestart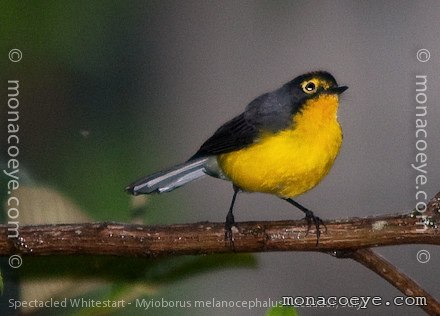 Copyright: monacoeye • Guango Lodge • March 2011 • Do not copy without permission

Bird name: Spectacled Whitestart
Latin:
Myioborus melanocephalus
Other: Candelita de anteojos (Es)

Family:
Parulidae
•
New World Warblers
, Whitestarts
Range: S Colombia,
Ecuador
, Peru, N. Bolivia
Similar:
The Spectacled Whitestart replaces the Slate-throated Whitestart at higher elevations. These were seen at Guango Lodge.
Distinctive marks include rufous crest and yellow "spectacles" around eye. Underparts are yellow and upperparts slate grey. Longish tail feathers, white below.
At times the rufous crest can be obscured, sometimes yellow unibrow stretches across both eyes, sometimes black above bill.
Spectacled Whitestart at Guango Lodge, Ecuador. March. © monacoeye