Blue Headed Parrot
C
opyright: monacoeye • Do not copy without permission

Bird name: Blue Headed Parrot
Latin:
Pionus menstruus
Other: Blue-headed Pionus (Pet) • Loro cabeciazul (Es) • Maitaca-de-cabeça-azul (Br)

Family:
Psittacidae
-
Parrots
Range: Costa Rica, Panama, Colombia,
Ecuador
, Peru, Bolivia, Venezuela, to Brazil

Similar:
The Blue-headed Parrot below was seen at Finca Hartmann in the Chiriqui province of western Panama in May.
The Blue-headed Parrot has a distinctive blue head, with small patch of red at base of bill and on chest, difficult to see in the field. Otherwise green with reddish under tail.
More Blue-headed Parrots seen in the Upper Napo region of the Amazon Basin in Ecuador below in "more photos".
Below, a Blue-headed Parrot at Finca Hartmann, Panama, March 2010.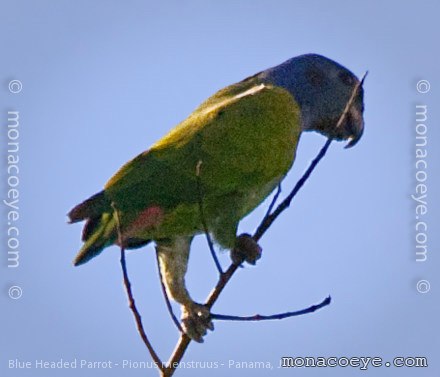 Below, a flock of Blue-headed Parrots flying overhead, Upper Napo, Ecuador, March 2011.