American Golden Plover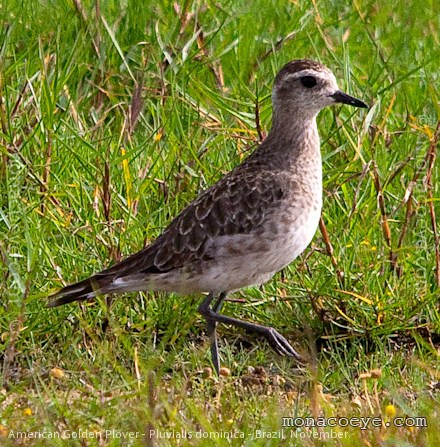 © GW - monacoeye • All rights reserved, Lagoa do Peixe • November 2009

Bird name: American Golden Plover
Latin:
Pluvialis dominica
Other: Batuiruçu (Br) • Batuíra-do-campo (Br) • Chorlito dorado chico (Es) • Chorlo pampa (Es) • Other Pt: Tarambola-dourada-pequena • Tarambola-dourada-americana

Family:
Charadriidae
•
Lapwings & Plovers
Range: Arctic tundra: Canada, Alaska, migrates to S America, mostly Patagonia.

Similar: Grey Plover
The photo above was taken in southern Brazil in November, so in non-breeding plumage.
The American Golden Plover has a strong white eyebrow, dark legs. Relatively, smaller bill and bigger eye than the sandpipers. A medium-sized bird, but smaller than a Southern Lapwing.
Below, a rare vagrant American Golden Plover in the Kartong Wetlands, Gambia.

Below, vagrant American Plover, Gambia, Mar 2013.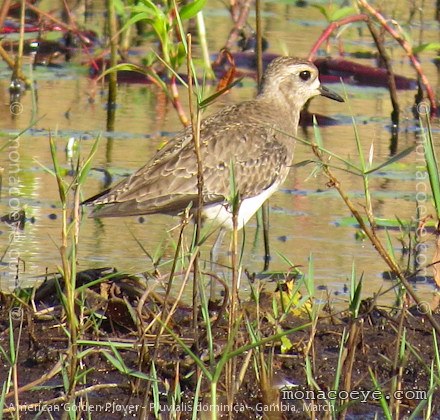 Below, American Golden Plover in flight, Brazil, Nov.