Violet Capped Woodnymph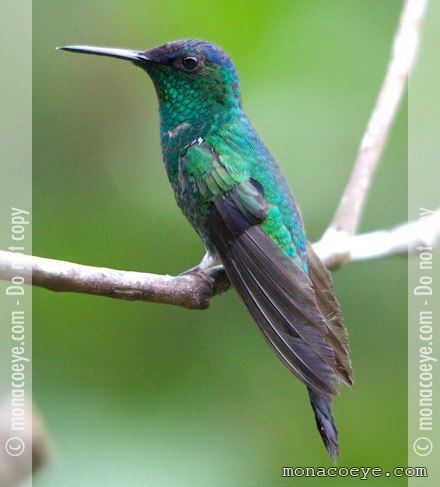 Photo copyright: monacoeye • Do not copy • Images: Ubatuba • November 2009

Bird name: Violet Capped Woodnymph
Latin:
Thalurania glaucopis
Other: Beija-flor-de-fronte-violeta (Br)
Family:
Trochilidae
•
Hummingbirds
Range:
Similar:
The Violet-capped Woodnymph is a hummingbird found throughout the southeast of Brazil, and into Paraguay, Uruguay and Argentina.
The male has a characteristic purple cap, black bill, greenish body, brownish wings and deep blue, longish, forked tail. The female is light underneath, but I'm not certain the photo below is a female Violet-capped Woodnymph (needs confirmation). She has a shorter, white-tipped tail.
These photos were mostly taken at Jonas' excellent feeders in Folha Seca.